New pages
Tsubasa: Reservoir Chronicle (ツバサ-RESERVoir CHRoNiCLE- Tsubasa -Rezaboa Kuronikuru-?) is a fantasy[1] shōnen manga series written and illustrated by the mangaka group Clamp. It is serialized in the Kodansha publication Weekly Shōnen Magazine. It takes place in the same fictional universe as many of Clamp's other manga series including xxxHolic, Cardcaptor Sakura, Legal Drug, Angelic Layer, X, Chobits, Magic Knight Rayearth and Tokyo Babylon. It was adapted into an anime series, Tsubasa Chronicle (ツバサ·クロニクル Tsubasa Kuronikuru?), animated by Bee Train, which aired 52 episodes over two seasons during 2005 and 2006.[2] Three OVAs (animated by Production I.G) were also released in two month successions from November 2007 through March 2008. As of September 1, 2008, the English dub of the first season is being broadcast on the Funimation Channel in the United States.[3] The English dub is also being broadcast by Animax across Asia under the title Chronicle of The Wings.
==News==
Replace this with some news about your topic.
enjoy reading my wiki. --Rizaleejasper122 11:42, 15 August 2009 (UTC)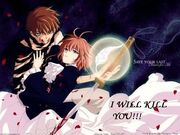 Ad blocker interference detected!
Wikia is a free-to-use site that makes money from advertising. We have a modified experience for viewers using ad blockers

Wikia is not accessible if you've made further modifications. Remove the custom ad blocker rule(s) and the page will load as expected.